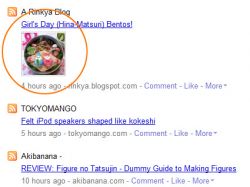 Do you have a blog on FriendFeed or some other RSS aggregation service, and wonder why your blog images don't show up as a nice little thumbnail like other blogs? It's pretty much a fact that people will click on pictures faster than text only on FriendFeed. How can you enable image thumbnails on your RSS entries? What you need is Media RSS.
Media RSS is an RSS extension used to embed images, video, and other elements into the RSS feed. It was developed by Yahoo and the Media RSS community back in 2004. WordPress by default does not include the Media RSS extension, and that's why your blog doesn't show thumbnails when read by another service.
Luckily, it's a really easy fix. Andy Skelton created a plugin called appropriately, MediaRSS that enables the feature. All you have to do is drop it into your plugin directory, activate it, and enjoy the extra traffic your entries will garner with your new shiny thumbnails. Just be aware, that old entries already submitted to FriendFeed may not show thumbnails, but your new entries will.
On FriendFeed, this post was liked by 3 people and commented on 0 times
show